Interview with Renata Rocha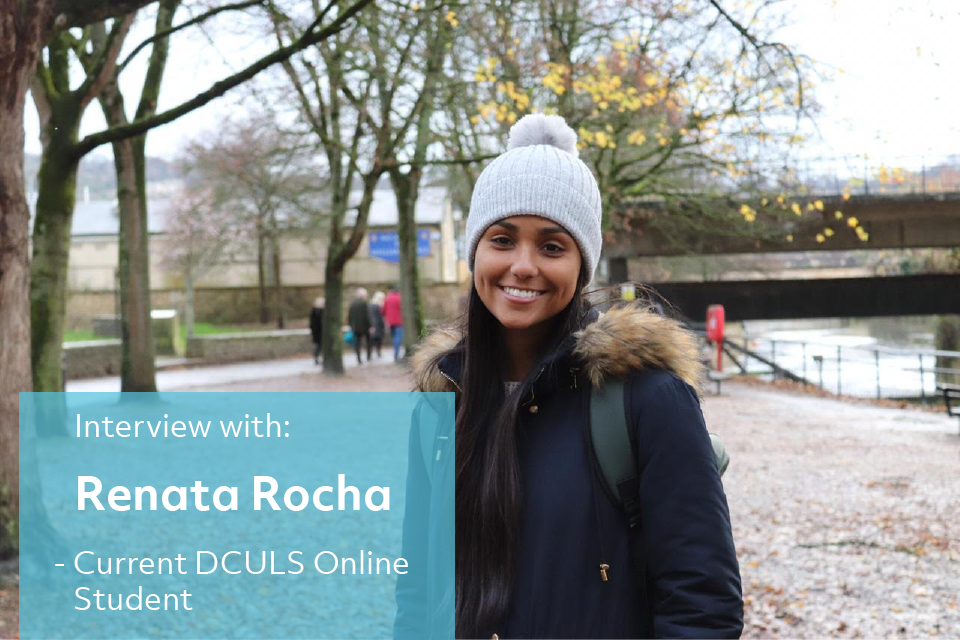 November 25th, 2020 english
We invited current student Renata Rocha, from Brazil, to share about her experience studying English at Dublin City University and learned more about how Covid-19 has impacted her situation.
When did you arrive in Ireland? 
I arrived in Ireland in November 2019.
Why did you choose DCU?
I organised my language exchange with an agency in Brazil. This agency works with a lot of schools around Ireland. I had already decided I would go to Dublin when I started looking for a school. I chose Dublin because I knew it was the perfect "size" for me. Dublin is not too big like São Paulo where I come from, so I do not spend a long time on the bus. However, Dublin is not too small a city like other cities in Ireland!
I checked every school in Dublin which my agency works with. When I saw DCU I just fell in love with everything. The campus was magnificent, they have everything that I would need. Inside the campus, they have a pharmacy, a supermarket, a good gym (and the price is cheaper for DCU students!), a pub, a big library and many other things. I was extremely excited that I could join the university's clubs. DCU has more than 100 clubs that you can join for a cheap fee. It is about 4 euros per semester. 
Another thing that was also important to me, was that the school did not have a high number of Brazilian students. And DCU does has a good mix of nationality in my opinion. So, when I saw all the benefits of DCU, I had no doubt it was my school.
What would you say are the best parts of the DCU experience? 
It is very difficult to choose the best part because I like every single thing here in DCU. I am still in love with the campus. I do not see the staff as staff but as friends. They are so kind and always ready to help the students. The teachers are great and my English has improved a lot. I am managing to reach my goal which was to be immersed as much as possible.
What accommodation type did you choose and how has your experience been in your accommodation? 
Since arriving here, I have been living with a host family. It is the best way to keep improving your English because you must push yourself, as you need to speak with the family. 
I do not know what I can say about my host family. They are the best host family I could ever imagine. They have given me all their support since the pandemic started. Always so kind. I feel like part of the family. They are not my host family anymore; they are my Irish family, truly!!!
How was your experience of Ireland and DCU since you arrived until March 2020?
Until March 2020 everything was great. I used to go to the gym after my classes, go to the pub to socialise. I used to hang out with my friends and enjoy the city and also the activities organised by DCU. I travelled at Christmas and New Year. I was planning to travel more during 2020 during my holidays after taking the IELTS exam, but everything was postponed.
How has your experience been since March 2020 when Covid-19 arrived in Ireland?
When COVID arrived in Ireland the situation changed a lot. It was when I felt very close to the DCU staff and mainly my host family. They were the key for me to overcome this situation far from home. I tried to go back to Brazil in March, but I had a problem with my flight. I was stuck in Paris and I had to come back to Dublin. I was 14 days isolated in DCU accommodation and my host father brought my dinner every single day – I will never forget that, and he always had a little conversation with me before he left.
When we entered lockdown, DCU gave us some options for our course so we could decide what we wanted to do. We could take lessons online or get a full refund if we returned to our home country. It was really important because I heard some bad experiences from Brazilian students in other schools. DCU has been dealing with the situation very well indeed!!
What are your plans for the future?
Nowadays it is difficult to plan the future as COVID has been changing our lives almost every day. I am in my second semester and after that, I would like to do my Masters here in Ireland. 
__
Thank you Renata for sharing your experience and for being an exceptional student.
Do you want to learn English and achieve your goals like Renata is? Check out our English courses here.
If you have any questions, we are here to help you out, please get in touch.
__