Interview with Myra Hanani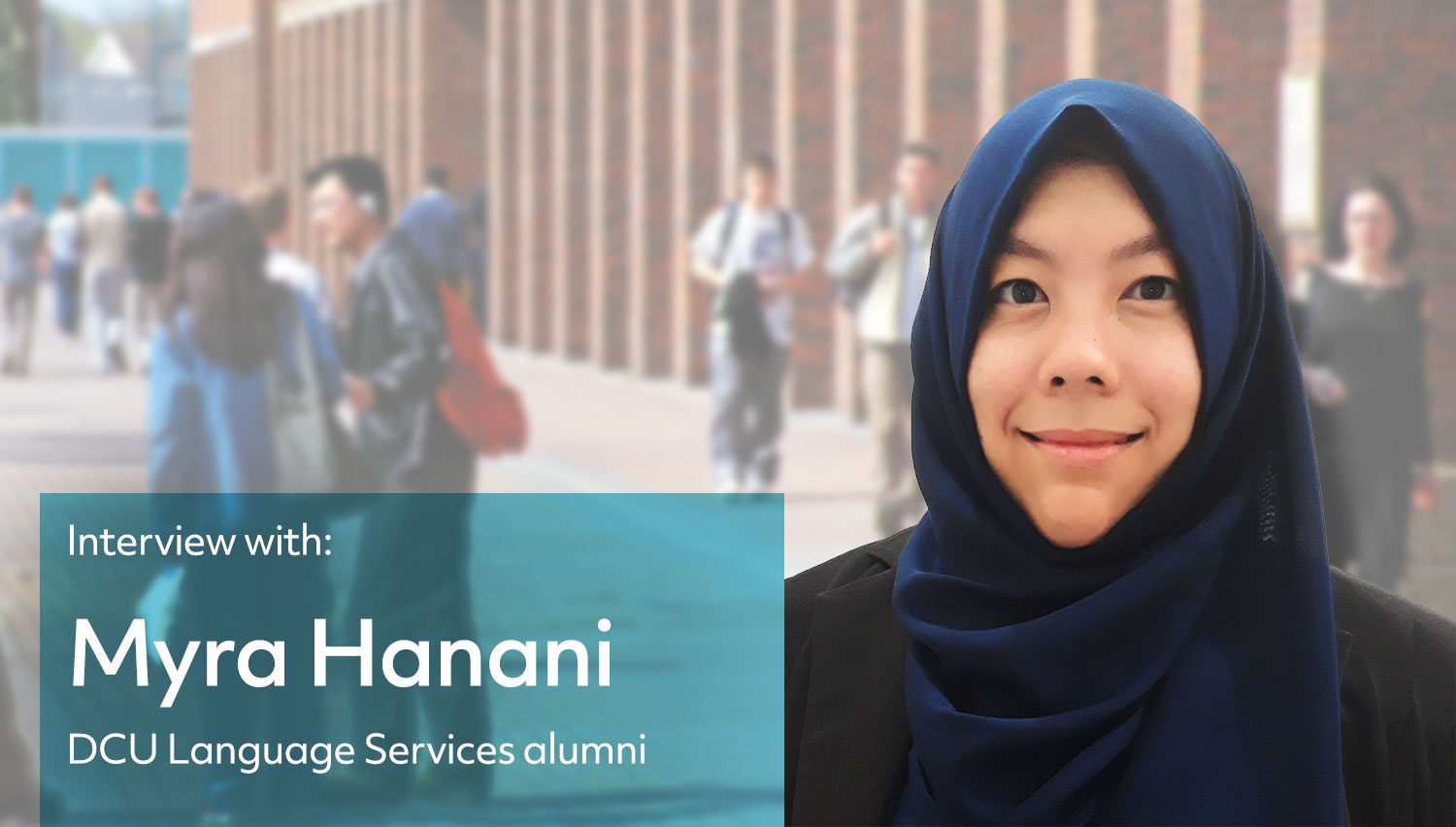 April 16th, 2019 english
We invited our former student Myra Hanani, from Malaysia, to share more about her experience studying English at Dublin City University in Ireland. DCU Language Services offers a modern language school on an internationally renowned university campus.
Myra had the opportunity to be immersed in English, make new friends and visit amazing places.
Get to know more about her journey on reaching 8.5 IELTS score:
What was your reason to start learning English?
Languages, English in particular, had always been my interest. I must say that nobody had forced me to learn the language, it was me, myself. As a kid, I would always buy educational books in English just to pass the time.
How did DCU help you to reach your goal of learning / improving English?
The methods being used in DCULS helped me in reaching my goals. From just a B2 level at the very beginning of my journey to a C2 level in just 6 months is something I always wanted to achieve.
What would you say about DCU facilities such as the library, restaurant, bar, mini-market, pharmacy, theatre, bank and green area?
I like the fact that the facilities are within the immediate vicinity of the school, it operates as a small village.
What would you say about the quality of DCU teaching?
The quality of DCU teaching is superb as the teachers there would try their very best to make the lesson engaging.
Did the fact that DCU is a university appeal to you?
My family and I knew that DCULS would be a good language school as it is based on the campus of a well-known university.
What social activities did you take part in? Did you like them?
I used to attend the weekly conversation class held by Alan (teacher) and the day long weekend trips. I would always try my very best to attend as many social activities as I could. I went to explore Galway and Cork with my classmates. I ought to say that I cannot remember a moment when I had disliked the activities being organized.
In what ways did the activities help you learn English?
Through the weekly conversation class, I was able to improve my English language proficiency. This class also allowed me to mingle around with people from around the globe and make new friends. I must say that at the end of my journey, my knowledge of world languages and their culture had vastly improved.
What have you taken from your 'DCU experience'? How will you use it in your future?
Back then, I would always analyze the way how my teachers taught me in class. This is because I knew that I can apply it later on throughout my diploma in becoming a teacher.
What are your plans for the future?
I hope to be teaching in DCULS in the near future as I am currently studying for my diploma in TESL.
__
Thank you Myra for sharing your experience and for being an exceptional student.
Do you want to learn English and achieve your goals like Myra did? Check out our English courses here.
If you have any questions, we are here to help you out, please get in touch.
__