Best spots around DCU campuses to study English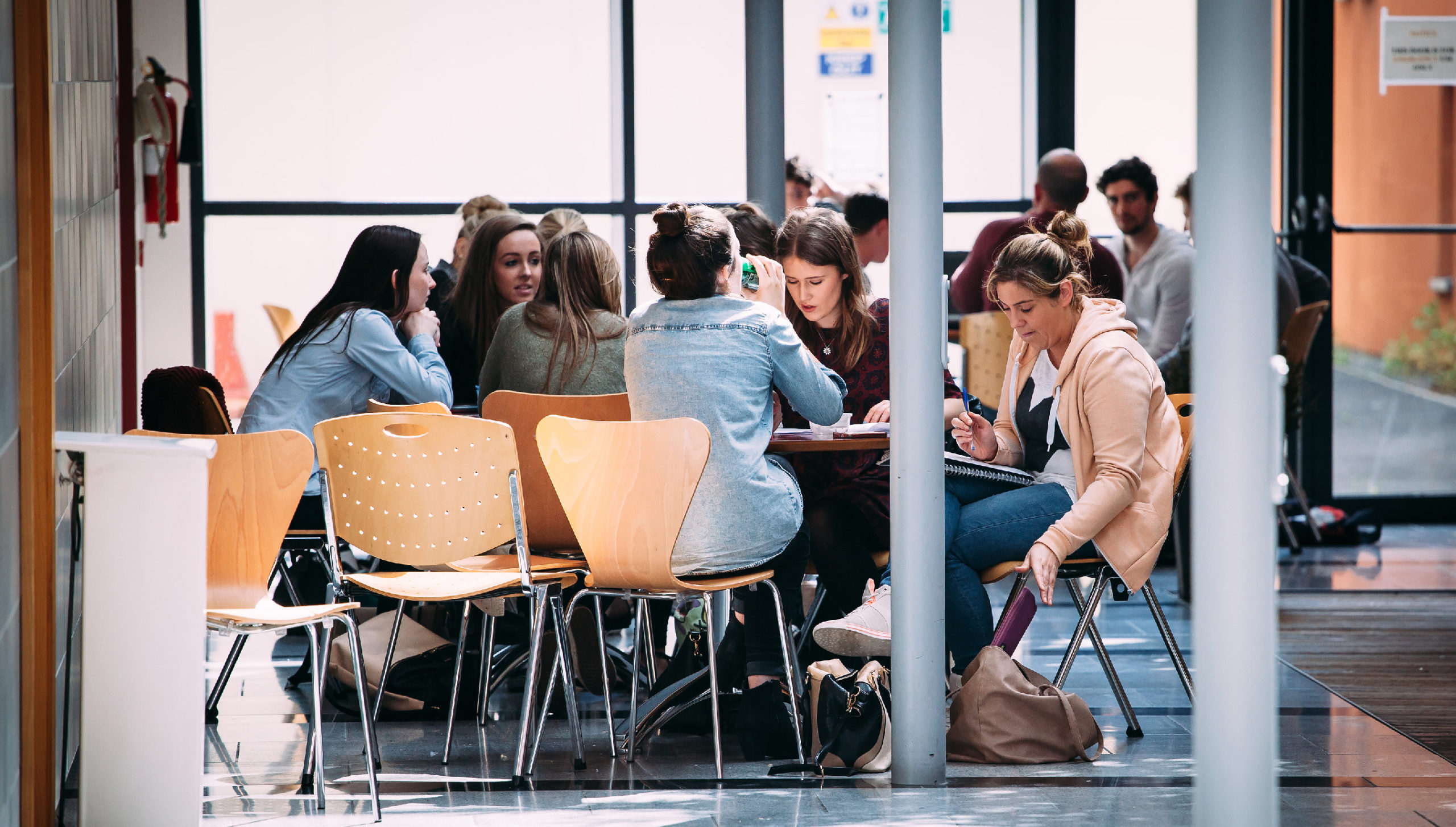 February 3rd, 2019 English,
At Dublin City University you can find comfortable, well-equipped and collaborative learning spaces which will create an effective learning environment for you.
Don't worry about finding a peaceful and quiet place to get some work done. Here are some tips on the best spots to study English around DCU.
DCU Libraries
The O'Reilly Library on the Glasnevin Campus provides a wide range of study spaces to suit all needs.There is space for quiet individual study, open spaces for collaborative work with classmates, and eighteen study rooms equipped with plasma screens and whiteboards for presentation preparation. There is a large chill-out area on the ground floor, which is the perfect place to take a break from study and catch up with some friends. The information desk is manned by helpful staff who will be happy to assist you in your search. If hunger sets in, the library café provides convenient hot or cold options you can grab on the go.
If you're on the St Patrick's Campus, the Cregan Library is your best bet as this location provides a great collection of materials for study. It has comfortable seating areas and individual study areas. Two group study rooms are also located here. The Cregan Library offers many services such as printing, laptop borrowing and PC access. If you have any questions, staff at the information desk on the ground floor will help you find a solution. The Library, which was built in 2015, has a modern design with bright colourful open spaces. Its large windows allow for maximum natural light. The Starbucks Café on the ground floor is a great spot to take a break and refuel for the rest of the day.
Cafés
DCU also offers a range of cafés which are perfect for getting some work done while enjoying a hot tea or coffee. The DCU Business School Café is a hidden gem. This newly refurbished café is located on the 2nd floor of the Business School on the Glasnevin Campus. The Cafe has WiFi access and various sockets for charging phones or laptops. Another café that is off the beaten track and ideal for some study is the Invent Cafe located on the ground floor of the Invent Building on the Glasnevin Campus. This café offers WiFi and while you study you can rub shoulders with entrepreneurs and get a taste of what your future could hold by studying at DCU. Soup, sandwiches and delicious bagels are also available. If traditional barista style coffee is to your taste, The Helix Café is your place. It is located on the ground floor foyer, adjacent to the main entrance to the theater building.
DCU Student Union building – The 'U'
The brand new 'U' student centre offers many different areas to work while you watch the world go by. Students are spoiled for choice between the theatre-style seating on the ground floor and the long tables on the second floor. Of particular note are the two autism-friendly "escape pods". These pods provide a space for students to escape and take a minute to themselves.
Off Campus
Off campus, the National Botanic Gardens, which is free to enter, is a short walk from both the Glasnevin and St Patrick's Campuses. While it may not boast facilities like free WiFi or sockets for charging, the beautiful surroundings allow students to de-stress while revising coursework. Another great green area located adjacent to the Glasnevin campus is the Albert College Park. It is a large public park filled with wildlife and walking trails.
_____
Dublin City University – English School has over 25 years of experience providing English language courses in Ireland. Get in touch and discover how you can experience another culture while you improve your English.