A Very Irish Christmas with DCU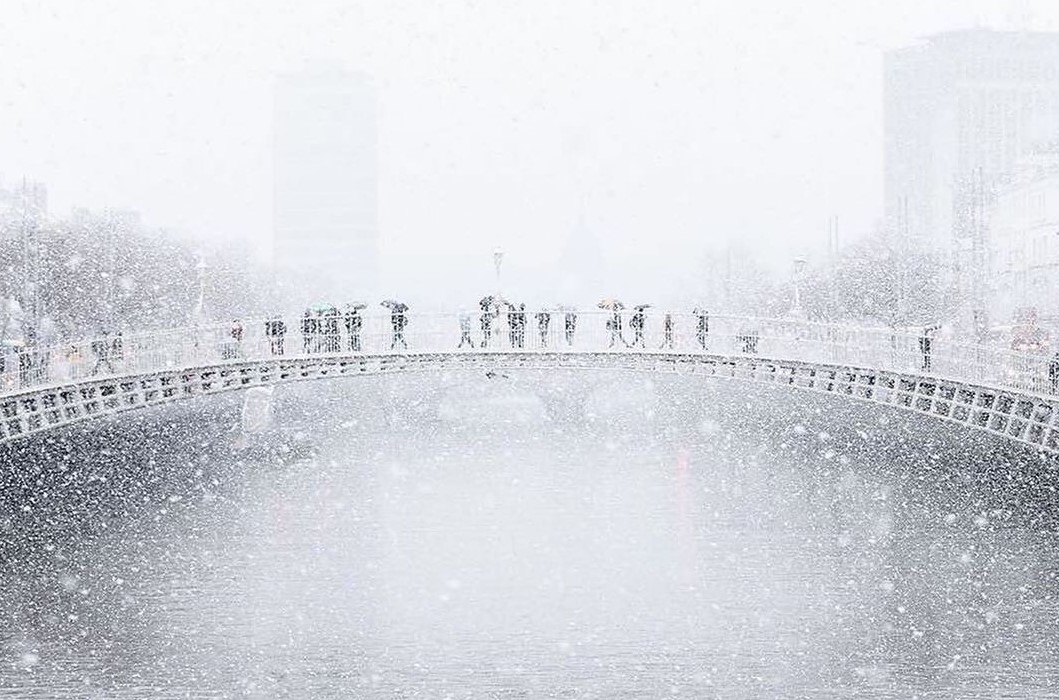 December 2nd, 2020 english
The festive season is right around the corner and although the holidays may be slightly different this year, we're here to remind you of some traditional and modern Christmas customs across Ireland.
Below you can find a list of our well known Irish Christmas traditions. We would love to hear about some traditions from your country – get in touch with us on Facebook or Instagram!
1. Decorating the House
A classic Christmas tradition which dates back to the early 1800s!
After the 8th December, you will start to notice beautifully decorated trees shining brightly out of the windows of homes across Ireland.
Most, if not all, Irish households will decorate their homes with colourful tinsel, sparkling fairy lights and all things Santa Claus related along with a Christmas tree usually being erected in the sitting room.
You'll usually find the office and halls of DCU Language Services decked out in glowing garlands and Santa hats!
2. Pubs of Christmas
A highly popular and relatively new celebration in Ireland to signify the end of the year. This event involves 12 pubs, a group of friends, vibrant Christmas jumpers, a few pints and a set of crazy rules. 
There are many versions of this tradition which differ between groups of friends. The focus of the night is to have fun and stay safe. Sláinte!
3. Carol Singers
You might think that this only happens in Christmas movies, but in reality, it is an actual practice which individuals of all ages partake in! Schools, local church choirs and charity organisations alike come together to spread Christmas cheer in the form of singing, with popular song choices ranging from the classical "O Holy Night" to the more upbeat "Jingle Bells" and "Rudolph the Red Nosed Reindeer". 
The DCU Campus Choir arranges a wonderful performance annually in the form of "Christmas Carols by Candlelight" in the All Hallows campus chapel which is a truly magical experience for all DCU students and staff.
4. Christmas Markets
Another relatively new arrival in Ireland, Christmas markets are quickly becoming a favourite destination for families and friends to visit for festive foods, mulled wine, Christmas crafts and, of course, Santa Claus. 
Celebrated markets across Ireland include the Galway Christmas market, the Dublin Castle Christmas market, the Belfast Christmas market, Waterford Winterval and Glow Cork. 
Every year DCU Language Services organises a trip to at least one of these Christmas markets for our students – sometimes we make a full weekend of it! 
5. Midnight Mass
Attending Midnight Mass on Christmas Eve is a tradition practised by many families across Ireland. It is a huge social gathering where friends and neighbours join together to commemorate the birth of Jesus Christ. 
As the name suggests, it was originally held at midnight, however, nowadays it is quite common to see Midnight Mass taking place earlier at 8 pm, 9 pm or 10 pm.
6. Christmas Morning Swim
Morning swims take place all across Ireland on Christmas Day, with hundreds of courageous souls jumping into the freezing cold sea wearing only their bathing suit and sometimes a Santa hat! The atmosphere is sensational.
A crowd of less brave people wrapped up in snug coats, hats and scarves stand on the sidelines in support of the swimmers.
Famous spots include the Forty Foot in Sandycove, Co. Dublin, Galway Bay in Galway and Bundoran Beach, Co. Donegal. None of our students have been brave enough to join us for this activity yet – would you?!
7. Christmas Dinner
The main event on Christmas Day, the much-anticipated feast of Christmas is celebrated across most households in Ireland. Food served varies depending on family preference, usually with roast turkey or goose, potatoes (of course!), brussels sprouts and various other vegetables making an appearance.
Make sure that you leave some room for dessert too! Christmas pudding, Christmas cake, sherry trifle and mince pies are all essential sweet treats found in Irish houses for the duration of the Christmas season.
8. St Stephen's Day
St. Stephen's Day (also known as Boxing Day) falls on the 26th December, the day after Christmas. Traditionally, St. Stephen's Day was known for its ancient Irish custom of hunting the wren. The Wren, although a fading tradition, still takes place in many parts of the country annually. 
In recent times, the 26th December has become one of the main shopping days of the year, with retailers kicking off some of their biggest sales. Flocks of eager shoppers will queue outside stores for hours at a time in an attempt to bag some great bargains and discounted goods. We recommend Arnotts on Henry Street in Dublin for some great deals! 
9.
New Year's Eve
No one rings in the New Year quite like the Irish! New Year's Eve in Ireland is all about chasing any bad luck out of the house and inviting good spirits in before the start of the new year. It's also about honouring the dead and remembering those lost the year before.
You will also find tonnes of events and festivals taking place across the country with guaranteed performers, fireworks and music at each creating the perfect atmosphere to celebrate the New Year!
10. Little Christmas
With the New Year in full swing, January 6th is traditionally when the tree comes down and all of the festive gear gets packed back up into the attic. However, on this day, another Irish Christmas tradition takes place – Little Christmas, also known as Women's Christmas.
This custom was born during a time when the running of a home was left to the women of the house. January 6th was a day when all of the work done over the merry period was celebrated. The chores were passed to the men of the house and the women would put their feet up and enjoy a well-deserved break!
If you have stayed with a DCU Host Family over the Christmas period then there are probably some other traditions not listed here that you've had the chance to experience in the past.
Or perhaps you plan on travelling to Dublin soon, where you can meet new people, learn about other great Irish traditions and come and improve your English with us here at DCU!