GENERAL ENGLISH (LIVE ONLINE CLASSES)
Develop your English language skills in a dynamic student-centred learning environment.
Practise using natural English fluently and accurately for the range of different purposes and contexts in which you will find yourself in English-speaking countries.
Learn through task-based activities specially designed by our professional, enthusiastic teachers: the emphasis is on communicating effectively and precisely and on developing students' confidence with a view to tackling any real-life situation with ease
Study alongside motivated students from all over the world who are at the same level as you.
KEY POINTS
Duration: 2 weeks or more
Start times: Programme Intake Dates
Level: Elementary (A2) minimum
Workload: 20 hours per week (live online classes)
Class times (Irish Time): 8.50 - 12.50
Class size: maximum 15
What is INCLUDED?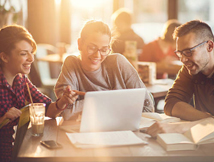 Live Online Classes (not pre-recorded)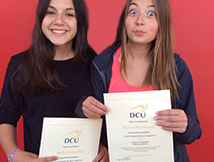 Course certificate & Digital book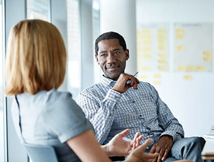 What will this course offer you?
Dynamic, engaging, learner-centred lessons, delivered by teachers with a focus on student-centred communication
Contemporary, relevant topics to prepare you for all the situations in which you will find yourself in an environment where English is the primary language
Irish-themed materials and reference to Irish culture and events
The virtual company of classmates from a variety of different cultures
Who should attend this programme?
This course is recommended for students who:
want to use English more naturally and confidently in various social and professional situations
are looking for flexible start and end dates for their study programme
USEFUL INFORMATION
How Can I Book a Course?
Interested students / partners should contact english.courses@dcu.ie to reserve their place. Please note – limited places available, and places are allocated on a first come, first served basis. Early booking advised to avoid disappointment.
How will the course be delivered?
The course will be taught using an online classroom platform with a combination of digital resources and directed study.
Accommodation
Flexible Accommodation Options including staying with an Irish family.